Seals

MTP offers a host of standard and custom seals tailored to customers' specific needs. Our expertise encompasses OEM, ODM and other production needs, including sealing assembly systems. MTP designs each product or assembly with an appropriate sealing system to meet the customer's requirements for performance and cost-efficiency.
The sealing system is a critical consideration in any assembly involving seals, because the slightest change to a seal's design or material composition will have a dramatic impact on performance.


When designing a shaft assembly—whether it is dynamic or static, rotating or oscillating—it is critical to allow a small space or clearance between the housing and the shaft to prevent wear. MTP seals play a critical role in separating or preventing unwanted particles or fluids from entering and becoming trapped inside the clearance and adversely affecting the proper functioning of the assembly.

MTP considers key parameters, specifications, and environmental conditions when designing high quality seals. For example, MTP shaft seals are designed by taking into consideration fluid pressure, shaft eccentricity, temperature, and fluid viscosity requirements in order to provide the correct lip for the seal. MTP's two most commonly used designs are the spring-loaded "S" and "T" designs for long-life and a tighter seal at higher RPMs.




The following table provides illustrations for designs of MTP seals available for use with any elastomer or casing materials.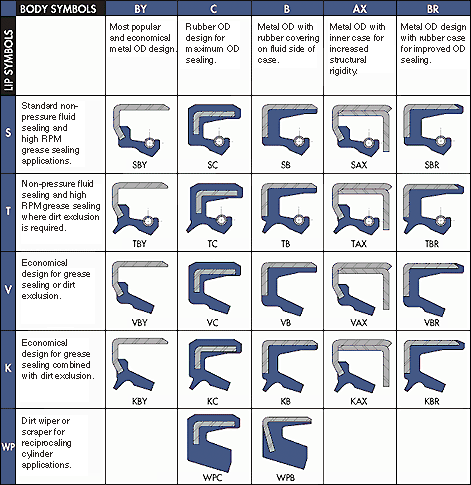 MTP also offers an assortment of specialty and non-standard seals.
Staff engineers at MTP assist customers in choosing the correct design for each application and help troubleshoot problems with customers' existing systems when needed. MTP provides engineering guidance during the assembly design phase to help ensure that customers implement the most cost-effective and reliable seals for their manufacturing applications.

For more information about MTP seals, designs, or a comprehensive catalog, please contact us.