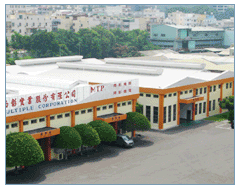 Manufacturing Excellence

MTP owns and operates a full service, state-of-the-art manufacturing facility in Central Taiwan.

Many of MTP's proprietary instruments and machines have been awarded patents. Our Machine Division purchases specialty parts and assembles high-performance compression, FIFO injection, and trimming machines, which are carefully maintained by our in-house machine specialists.

Raw materials and components—including robotic and machining components—are inspected and tested before they are sent into the Production Line.


Rubber materials are prepared using advanced mixers and cutters, including Farrel® inter-mixers, to achieve the highest degree of consistency while supporting rubber production properties unattainable from smaller mixers.

Every MTP component is QA tested at each step of the production process, which reduces defect rates and downtime and enables us to deliver high quality products to customers on schedule. We are also equipped for the rapid prototyping and testing of equipment for use in new product development.

Extensive R&D and Multi-Tooling capabilities, including the latest lathes, CNC, and other computerized equipment, enable our tooling specialists to quickly calculate and carve out molds to meet even the most exacting customer specifications.

The MTP Production Plant is QS9000/9001 Certified and TS-16949 Compliant. World-class production techniques, from compression to FIFO injection processes, are designed with scalability and quality in mind.

Before an MTP product is packaged and shipped to customers, it undergoes stringent quality tests and is stored in a climate-controlled environment to protect them from aging, degrading, or corrosion.

MTP Sales and Distribution Centers are located in the U.S. through our partnership. Our international operations are staffed with engineers, logistical support staff, sales professionals, quality inspectors, and scientists to serve the many leading global organizations that have become loyal MTP customers. You may also contact us directly and we will be happy to assist you.